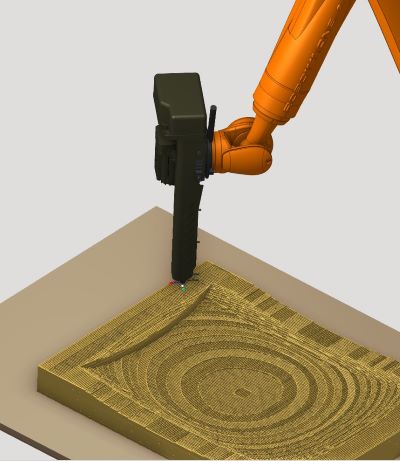 Pezze di Greco, Puglia (IT) – REV3RD is pleased to announce its partnership with ROBOTTIONS, a renowned Spanish company specialized in robotics and automation, and invites the Spanish and European visitors of the "Industry Live" exhibition at IFEMA Madrid to stop at ROBOTTIONS booth n° 35 – Pabellón 6 – on May 10th & 11th.
"We are excited to partner with ROBOTTIONS and combine our strengths to bring high-quality, innovative solutions to our customers" said Alessandro Torre, CEO of REV3RD. "This partnership is an important step for us to expand our offerings and provide our customers with the best and cost-effective solutions in the Spanish and European market."
"We are delighted to showcase our partnership with the Italian company REV3RD and demonstrate how our advanced robotics and automation technology can be integrated with REV3RD's high-quality pellet extruders for Additive Manufacturing to improve production efficiency and enhance the 4.0 industry" said Xavi Garcia, CEO and founder of ROBOTTIONS.
About REV3RD:
REV3RD's main activity is developing and selling FGF Additive Manufacturing technologies to supply third-party machines of powerful and innovative pellet extruders for Large-Scale Additive Manufacturing systems. The company offers a wide range of pellet printheads, able to print from 5 up to 250 kg/h. All models are designed in-house and customizable according to the customers' needs in terms of power and configuration. The name REV3RD (read reverd) is inspired by the Italian word "verde", which means green, and highlights the ideas of circularity and recyclability empowered by additive technologies.
About ROBOTTIONS:
ROBOTTIONS is a Spanish company specialized in robotics and automation. They train specialized personnel at the user, programmer and integrator level so that their clients can manage these new processes independently. During Robottions' years of activity, projects have been developed throughout Europe and the US, and work has been done hand in hand with major brands such as Kuka, KIVNON, ABB, OTTO Motors or DTA. Robottions is committed to business development at a national level, and for this reason it is a founding member of ARME (Spanish Mobile Robotics Association).